The Relationship Between Parent and Child Mental Health: Taking a Family Systems Perspective in Support Services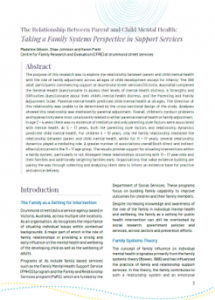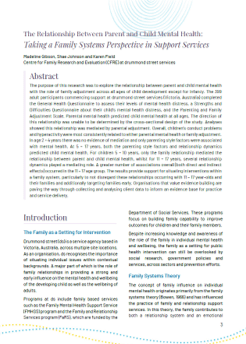 As an organisation, drummond street (ds) recognises the importance of situating individual issues within contextual backgrounds. A major part of which is the role of family relationships in providing a strong and early influence on the mental health and well-being of the developing child as well as the well-being of adults.
Programs at ds include family based services such as the Family Mental Health Support Service (FMHSS) program and the Family and Relationship Services program (FaRS), which are funded by the Department of Social Services. These programs focus on building family capability to improve outcomes for children and their family members.
Despite increasing knowledge and awareness of the role of the family in individual mental health and well-being, the family as a setting for public health intervention can still be overlooked by social research, government policies and services, across sectors and prevention efforts. This research paper aims to help expand the research around this area to inform an evidence base for practice and service delivery. The results provide support for situating interventions within a family system with interesting findings across different ages. Click here to download the pdf.